Product Overview
Our Natural Pigmentation Control Cream is fortified with Giga White™, Sepiwhite™ MSH, Niacinamide, Vitamin C, Rosehip Extract, Shea Butter & Tucuma Seed Butter. Those powerful natural ingredients and actives work together to reduce the appearance of large pores, fine lines and wrinkles, so that the skin looks visibly younger and brighter, feels firm and lifted, becomes softer and smoother, more hydrated, and plumped.
Our Natural Pigmentation & Dark Spot Corrector Cream is packaged in dark blue cobalt light-protected glass jar, which means that the cream can be stored without the addition of aggressive preservatives, surfactants, sulfates and other chemicals. And this is exactly what we want for our face!
This listing is for one jar of Natural Pigmentation & Dark Spot Corrector Cream (100ml/3.38oz)
Instructions: Clean you face and neck area with our pigmentation control face ubtan, then use anti pigmentation face toner. Apply the cream to clean skin area that needs pigmentation correction. Cover a bigger area than needed to prevent new dark spot occurrence. For example entire face, not just spots. Use at night as the last step of the skincare routine process. Don't forget to take care of your eye area with our Natural Anti Aging Eye Cream.
KEY BENEFITS of Natural Pigmentation & Dark Spot Corrector Cream
Giga White™ Complex - Giga white is a skin glowing, brightening and dark spot corrector derived from a natural source. Giga White is a plant-based, chemichal and preservative-free skin lightening alternative to hydroquinone with minimal to no skin irritation. The plants are combined in a proprietary blend ratio maximizing its activity and producing an even more effective ability to inhibit tyrosinase. Tyrosinase is an enzyme chiefly responsible for the production of melanin, which can lead to hyper pigmentation issues. It is effective in treating dark spots, skin discolorations and sun damaged skin.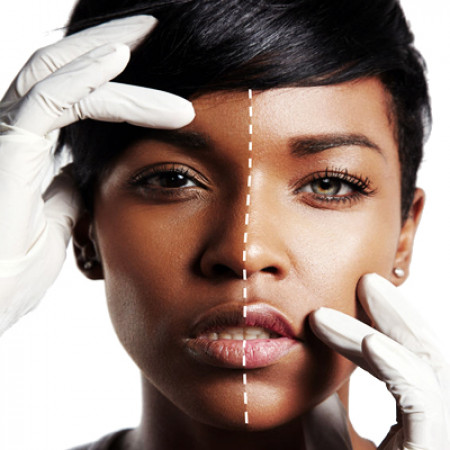 Sepiwhite™ MSH Complex - an excellent skin lightener and brightener suitable for all skin types and ethnicities that promotes a more uniform and radiant complexion with results in as little as two weeks. Studies have demonstrated an increase in skin luminosity and decrease in the number and color of hyperpigmented spots, and it can be combined with other active ingredients, such as niacinamide or AHAs. Sepiwhite™ MSH is an alpha-melanocyte-stimulating hormone (MSH) receptor that inhibits the process of melanin synthesis from the hypothalamus to produce a reduction in melanin pigments in skin cells.
Shea Butter - extracted from the nuts of the shea tree, shea butter is packed with fatty acids, antioxidants and vitamins E, A and F. It is considered to be a superfood for our skin as it is believed to deeply moisturize dry skin, treat acne and blemishes, reduce skin inflammation, possess anti-aging properties, provide relief to itchy and peeling skin, restore skin elasticity, prevent and reduce stretch marks, and even help with diaper rush.
Tucuma Seed Butter - having a silicone-like behaviour, Tucuma is unusually rich in lauric, myristic and oleic acids; therefore it is considered to have excellent emollient and skin-softening properties. As well, it is high in vitamin A, and its antioxidant properties lengthens its shelf life.
Niacinamide or Vitamin B3 - a miraculous ingredient that keeps skin healthy, soft, glowing. Helps maintain the structure of blood cells and improves blood circulation. Reduces acne and pigmentation of the skin, prevents skin aging, gives skin elasticity, and moisturizes.
Vitamin C - stimulates the production of collagen, fights against all manifestations of photoaging - thickening and uneven skin, as well as age spots. Restores vitamin E, which is also a powerful natural antioxidant. It inhibits the production of melanin, which helps to brighten the skin and restore its radiance.
Rosehip Extract - high content of vitamin C, as well as 32 other minerals and vitamins such as beta-carotene, bioflavinoids, calcium, citrates, citric acid, iron malates, malic acid, niacin, phosphorus and vitamins A, B1, B2, E, K. Rosehip has natural antioxidant properties and is widely used in anti-aging products to improve and maintain skin elasticity.
Geranium Essential Oil - an excellent antiseptic with anti-inflammatory properties, which is suitable for sensitive and oily skin, it activates blood circulation and normalizes the functioning of the sebaceous glands. Popular ingredient for mature skin.
Full list of Ingredients: Aqua, Butyrospermum Parkii Butter, Ethylhexyl Palmitate, Astrocaryum Tucuma Seed Butter, Glycerin, Polyglyceryl-3 Dicitrate/ Stearate, Myristyl Myristate, Glyceryl Stearate SE, Malva Sylvestris (Mallow) Extract, Mentha Piperita (Peppermint) Leaf Extract, Primula Veris Extract, Alchemilla Vulgaris Extract, Veronica Officinalis Extract, Melissa Officinalis Leaf Extract, Achillea Millefolium Extract, Cetearyl Alcohol, Niacinamide, Rosa Canina Fruit Extract, Magnesium Ascorbyl Phosphate, Pelargonium Graveolens Flower Oil, Undecylenoyl Phenylalanine, Glyceryl Caprylate, Glyceryl Undecylenate, Xanthan Gum, Citric Acid.
Disclaimer: This Natural Pigmentation Control Cream is intended for external use only. If irritation occurs, discontinue use immediately and consult your physician.
Storage Requirements & Expiration: Our Natural Pigmentation Control Cream can be safely stored at room temperatures (away from direct sunlight) for up to 6 months since the product has been opened. If not used within this timeframe, it can be stored in the fridge for additional 3-4 months.
Reviews