Product Overview
This Natural Green Tea & Rose Body Butter contains the most exotic extracts and carrier oils we could find. This butter is rich in vitamins B, D and C, Omega 3 and Omega 6 fatty acids, phytonutrients, antioxidant Vitamin E and C, and beta-carotene. Together those ingredients work to nourish and condition the skin, protect skin's moisture barrier from transepidermal water loss, thereby helping to reduce the appearance of fine lines and wrinkles. A little amount goes a long way! Take a small amount and massage into slightly moist skin as needed throughout the day. Keep the lid closed after use.
BODY BUTTER INFUSED WITH: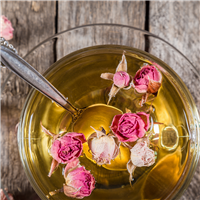 Green Tea & Rose Natural Fragrance Oil - A floral bouquet of rose, violet, and ylang are topped with opening notes of green tea, mandarin, and fresh eucalyptus and finishes with a warm bottom of sandalwood and earthy patchouli.
Our Natural Body butter is a mixture of solid and liquid oils, whipped to a cream state. Such product is 100% composed of higher fatty acids, beneficial fats, minerals and vitamins, and does not even contain a single drop of water. And this is reflected in its properties! It effectively nourishes the skin, enhances skin barrier functions. In addition, all nutrients and vitamins in the body butter are preserved much better. Body butter does not need preservatives, which makes this product completely natural! Our Natural Green Tea & Rose Body Butter is suitable for both men and woman after 30 years of age, and is also very beneficial in reducing the appearance of strechmarks during and after pregnancy.
And very important factor for your budget - the amount of product we are using. To effectively cover an area of skin, we need 5 times less butter than regular cream - as it spreads nicely and does not contain water! A 320ml jar of our body butter is equivalent to 1600ml of regular cream.
This listing is for one jar of Green Tea & Rose body butter (volume - 320ml).
Instructions: Massage Green Tea & Rose Body Butter into clean and slightly moist skin after washing your hands or taking a shower. Apply as needed throughout the day. Keep the lid closed to retain the moisture.
KEY BENEFITS of Natural Green Tea & Rose Exotic Body Butter
Moringa Carrier Oil: Rich in moisture as well as vitamins B and C, this oil is known to nourish the skin while enhancing the complexion's radiance. It is also a rich source of antioxidants, helping to minimize the appearance of the signs of aging such as fine lines and wrinkles. Its emollience promotes easy spreadability on the skin and the hair, leaving both looking and feeling softer, smoother, and more lustrous.
Avocado Oil: The benefits of avocado carrier oil are endless, its like a liquid gold for our skin. Studies claim avocado butter can help prevent premature aging/wrinkles, helps to reduce dark marks, lightens skin tone, moisturizes your skin, prevents sun damage, and reliefs dehydrated and ultra-sensitive skin. Avocado carrier oil is rich in natural vitamins A, D, and E, and unsaturated fatty acids, all of which are extremely beneficial for a healthy looking and radiant skin.
Macadamia Nut Carrier Oil: Macadamia Carrier Oil is a fantastic replenishing oil for skin's moisture barrier. It is high in mono-unsaturated fatty acids, contains palmitoleic acid (promotes younger looking skin), as well as omega 3 and omega 6 fatty acids. It has been reputed to soothe, cool and revitalize the look of the skin
Chia Seed Carrier Oil: consists of the perfect 3:1 ratio of Omega 3 to Omega 6 Essentianl Fatty Acids required for optimum skin health. This seed oil is rich source of Antioxidants and Phytonutrients, which protects the skin against the abuse of environmental elements and helps to reduce the appearance of aged skin. Chia Seed oil is an ideal ingredient for moisturizing formulations, as it reduces the water loss by protecting skin's moisture barrier, keeps the skin hydrated, and makes it look plump and radiant.
Rosehip Carrier Oil: this oil is extremely high in essential fatty acids and is known to help with dry, irritated, tired, and weathered skin. It is reputed to replenish the skin's moisture barrier and may assist in reducing the visible signs of aging.
Green Tea Liquid Extract - is used internationally in cosmetics, as it is a rich source of antioxidants such as Vitamin C and Vitamin E. Green Tea Extract is hailed in the natural skincare industry for it's skin beneficial properties. It is said to help reduce the signs of aging and reduce the appearance of age spots caused by environmental factors. The active constituents in Green Tea are the Catechin - Polyphenols. Green Tea catechins are known to be potent antioxidants.
Turmeric Oil - known to be loaded with powerful antioxidant and anti-inflammatory healing properties, very effective at protecting the skin barrier and helping prevent cell damage.
Full List of Ingredients: Hydrogenated Soybean Oil, Moringa Oleifera Seed Oil, Macadamia Integrifolia Seed Oil, Salvia Hispanica Seed Oil, Rosa Canina Fruit Oil, Rosa Canina Seed Extract, Persea Gratissima (Avocado) Oil, Cocos Nucifera Oil, Curcuma Longa (Turmeric) Root Oil, Camellia Sinensis Extract, Maranta Arundinacea Root Powder, Caprylic/Capric Triglyceride, Tocopherol, Parfum, Green Oxide.
Disclaimer: This Green Tea & Rose body butter is intended for external use only, avoid contact with eyes. If irritation occurs, discontinue use immediately and consult your physician.
Storage Requirements & Expiration: Our Green Tea & Rose Body Butter can be safely stored at room temperatures (away from direct sunlight and extreme heat) for up to 9 months since the product has been opened. If not used within this timeframe, it can be stored in the fridge for additional 3-4 months. At temperatures over 25 degrees Celsius, this body butter will melt and change to a liquid consistency. To bring it back to whipped consistency, mix liquid butter well with a spoon, and put in the fridge for a few hours.
Reviews